In 2005, the Financial Services Agency (FSA) conducted a fact-finding survey on hedge funds in Japan and published the findings in a report titled ''Summary of Hedge Fund Survey Results and the Discussion Points'' on December 13, 2005 (the English version was released on December 22, 2005) 1. The Survey was the first fact-finding survey ever conducted on Japan's hedge fund market, and many responses were received both at home and abroad. The following is an overview of the Survey results. Please note that all opinions stated hereunder are the writer's personal opinions.

Global Market Size for Hedge Funds exceeds $1 Trillion
The hedge fund market has been growing dramatically in recent years. According to the survey conducted by an American hedge fund research company, the size of hedge fund market--which was worth US$324 billion in early 2000--exceeded US$1 trillion for the first time by early January 2005, and is still growing (refer to Figure 1).
Figure 1: Number and Asset Size of Hedge Funds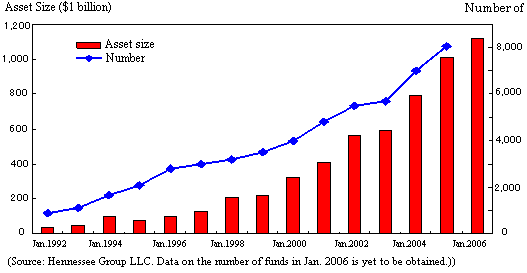 Under these circumstances, regulatory authorities are paying more attention to hedge funds. In particular, as it is said that cross-border activities of hedge funds have become more vigorous, there is growing recognition that further cooperation among regulatory authorities is needed to monitor and regulate their activities. Accordingly, many regulatory authorities are making proposals and taking measures with respect to hedge funds, including the International Organization of Securities Commissions (IOSCO), which consists of securities regulators of the world.
In Japan, the study of issues of hedge funds is declared as one of the concrete efforts to be made under the Program for Further Financial Reform - Japan's Challenge: Moving toward a Financial Services Nation formulated and announced in December 2004. We have also participated actively in discussions at international conferences, including those of IOSCO.
What are Hedge Funds?
It is extremely difficult to define hedge funds. There is no clear definition, not only in Japan but also in any other countries and international organizations. For example, according to the IOSCO report2 published in February 2003, hedge funds have ''at least some of the following characteristics: (1) borrowing and leverage restrictions, which are typically included in collective investment scheme (CIS) regulations, are not applied, and many (but not all) hedge funds use high levels of leverage; (2) significant performance fees (often in the form of a percentage of profits) are paid to the manager in addition to an annual management fee; (3) often significant 'own' funds are invested by manager; (4) derivatives are used, often for speculative purposes, and there is an ability to short sell securities; and (5) more diverse risks or complex underlying products are involved.'' However, it also states that it is ''extremely difficult to arrive at a legally sound description for the purposes of laws and statutes.''
Nevertheless, in some IOSCO member countries, funds that have some of the following characteristics are considered as hedge funds: (1) use of short-selling and leverage; (2) subscription through private placement; (3) investment in various types of assets; and (4) diverse investment strategies. In addition, charge of performance fees is also considered one of characteristics unique to hedge funds.
In consideration of the above, we defined hedge funds as the funds (including funds of hedge funds (FOF)) with the following three components in this Survey for the purpose of identifying the actual state of hedge funds in Japan as broadly as possible: (1) use of leverage; (2) charge of performance fee; and (3) use of hedge fund investment strategies. Considering that the number of publicly offered investment trusts with hedge fund strategies aimed at general (individual) investors established and sold has been increasing recently, we decided to cover both publicly offered funds and privately placed funds in this survey. (In this Survey, the interpretation of the definition of hedge funds was left to the respondents (financial institutions). As the interpretation might vary between the respondents, it should be noted that such variation might have affected the Survey results.)
Overview of Survey
In this Survey, the FSA sent a questionnaire to 1,251 financial institutions (''surveyed companies'') under its jurisdiction (deposit-taking financial institutions, insurance companies, securities companies, investment trust management companies, investment advisors, etc.) and requested them to respond on a voluntary basis. Specifically, three types of questionnaires to identify the actual state of hedge funds from three angles, namely, from the respective viewpoints of arrangement/management of hedge funds, distribution of hedge funds and investment in hedge funds (refer to Table 1). We also interviewed more than ten companies that were relatively large as hedge fund arranger/distributor/investor.
Table 1: Survey Items, etc.
| | | |
| --- | --- | --- |
| Category | Subject | Item |
| I. Hedge fund arranger/manager | Hedge funds established by surveyed companies during the five-year survey period between April 1, 2000 and March 31, 2005 (including hedge funds established by an overseas affiliate of a surveyed company that is involved in the management, distribution, etc. of such hedge funds) | Name of fund, form of subscription, investment strategy, name of management company, country of establishment, terms of fund, and amount of assets under management |
| II. Hedge funds distributor | Hedge funds sold by surveyed companies during the five-year survey period between April 1, 2000 and March 31, 2005 | Name of fund, form of subscription, investment strategy, name of management company, country of establishment, terms of fund, date of sale, amount of sale, and buyer |
| III. Hedge funds investor | Hedge funds held by surveyed companies or their consolidated subsidiaries as of March 31, 2005 | Name of fund, form of subscription, investment strategy, name of management company, country of establishment, terms of fund, date of purchase, amount of purchase, and seller |
Characteristics of Hedge Fund Market in Japan
In the Survey, questionnaires were sent to 1,251 financial institutions, of which 1,171 responded, as summarized in Table 2.
Table 2: Summary of Survey Results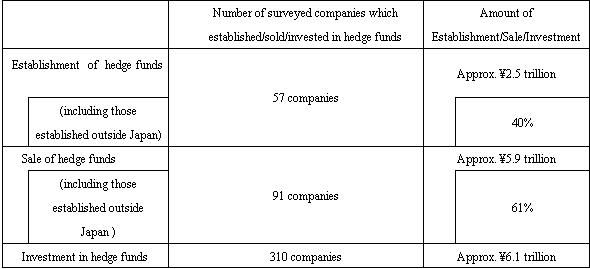 | | |
| --- | --- |
| (Note) | ''Establishment of hedge funds'' shows the number of financial institutions that established hedge funds and the amount of hedge funds established between April 1, 2000 and March 31, 2005, while ''Sale of hedge funds'' shows the number of financial institutions that sold hedge funds and the amount of hedge funds sold during the same period. ''Investment in hedge funds'' indicates the number of financial institutions that held hedge funds and the amount of hedge funds held as of March 31, 2005. |