Japanese

(Provisional Translation)
November 22, 2019
Financial Services Agency
State Minister Miyashita Presented the Progress Report of the Technical Assistance Plan for the Insurance Sector Development to the Ministry of Planning and Finance of Myanmar
1. On November 21, Mr. MIYASHITA Ichiro, State Minister of Cabinet Office, delivered a
Comprehensive Map of Proactive Assistance (COMPASS) Progress Report for the Future of Myanmar's Insurance Sector
to Mr. Maung Maung Win, Deputy Minister for Planning and Finance of Myanmar.
The COMPASS Progress Report
was jointly developed by Japanese stakeholders both in the public and private sectors. (
summary
).
2. Since the launch of
COMPASS
, June last year, the Japanese stakeholders have been endeavoring to contribute to the sound development of the Myanmar insurance sector and enhance the win-win relationship between the two countries with respect to the insurance sector. The objective of this report is to review the progress made and the way forward of
COMPASS
.
3. Taking Myanmar's commitment as integral part of the efforts, the Japanese stakeholders will continue to support realization of the measures of
COMPASS
for achievement of the long-term target of autonomous development of the Myanmar insurance authorities and the insurance industry.
*Financial Services Agency,
Japan International Cooperation Agency,
General Insurance Association of Japan,
General Insurance Rating Organization of Japan,
Life Insurance Association of Japan,
Foundation for the Advancement of Life & Insurance Around the world,
Mitsui Sumitomo Insurance,
Sompo Japan Nipponkoa Insurance,
Tokio Marine & Nichido Fire Insurance,
Dai-ichi Life Insurance,
Taiyo Life Insurance,
Nippon Life Insurance.
Delivery of the COMPASS Progress Report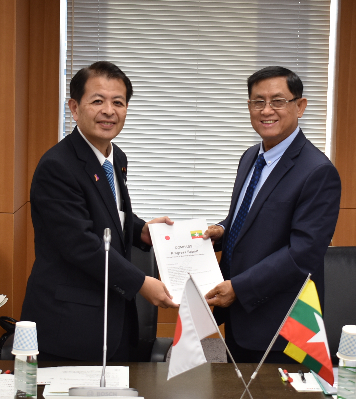 Commemorative Photo of Representatives of Participants

Contact
Financial Services Agency Tel +81-3-3506-6000 (main)
International Affairs Office (ext. 2976, 3696)
Planning and Management Division, Strategy Development and Management Bureau