What's New

The New GLOPAC Web Page Is Now Ready
April 28, 2021
Financial Services Agency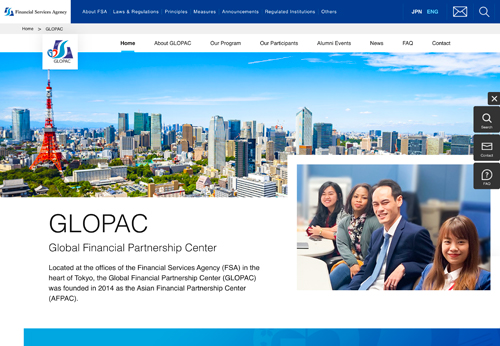 The new GLOPAC website provides easy-to-understand information on what GLOPAC is, how the Program is run, and the benefits of participating in the Program. The site also includes information* on current Visiting Fellows, former Visiting Fellows, and the interns who are participating or have participated in the GLOPAC Program. The website is intended to further strengthen the GLOPAC network by making it easier for participants to connect with each other and find information about events for Fellows.
We have also made a video introducing GLOPAC with the help of some of the GLOPAC alumni. We hope you will enjoy it.
*Information about GLOPAC participants is only made public with prior permission from the participants themselves.
Contact Information
Financial Services Agency
Telephone: +81 (0)3-3506-7344, +81 (0)3-3506-6000
Global Financial Partnership Center
Planning and Coordination Bureau