March 12, 2014
Financial Research Center (FSA Institute)
International Conference on
Financial System Stability, Regulation and Financial Inclusion
The Financial Research Center of the Financial Services Agency (FSA Institute) hosts joint international conferences which bring together the financial industry, academia, and the government sector from Asia, Europe and the United States, to discuss practical issues concerning the financial system. This fiscal year's international conference was jointly hosted by the FSA Institute, the Asian Development Bank Institute, and the International Monetary Fund on January 27, 2014. The conference was titled "Financial System Stability, Regulation and Financial Inclusion." The conference examined how financial regulation should be to promote financial system stability and competitive financial industry, discussed challenges for financial inclusion in Asia including the financing of small and medium-sized enterprises (SMEs), and exchanged views on desirable financial systems for Asia's economic growth. The conference examined how regulators can strike an appropriate balance in achieving these objectives through presentation and panel discussion. The conference was attended by more than 300 participants, from the financial sector, government sector, central banks, the business sector, academics and foreign embassies in Tokyo.
At the start of the conference, Hiroshi Okada, Senior Vice-Minister of Cabinet Office for Financial Services, made welcoming remarks. Then, presentations and discussions were held in four sessions. There was a keynote speech by an FSA official. Another speech was given Muliaman F. Hadad, Chairman, Financial Services Authority, Indonesia, in the last session.
See below for the program of the conference and presentation materials.

Program(PDF:279KB) , Materials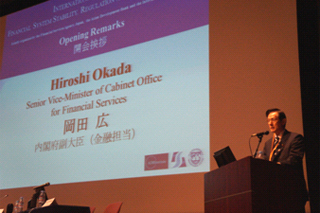 Welcoming Remarks
Hiroshi Okada, Senior Vice-Minister of Cabinet Office for Financial Services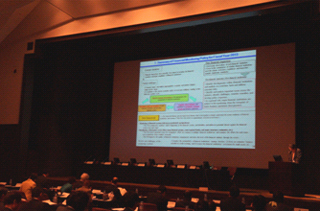 Keynote Speech
Hisashi Ono, Deputy Director-General, Supervisory Bureau, JFSA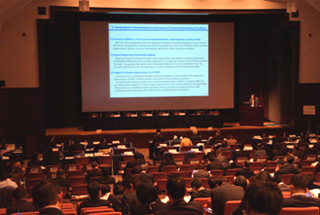 Scene of the Conference
| | |
| --- | --- |
| Session 1 | Session 2 |
| Session 3 | Session 4 |
International Conference
FINANCIAL SYSTEM STABILITY, REGULATION AND FINANCIAL INCLUSION
Jointly Organized by the Financial Services Agency, Japan,
the Asian Development Bank Institute and the International Monetary Fund
Date: January 27, 2014
Venue: Auditorium, Third Floor, Central Common Government Offices No.7 East Wing
3-2-1 Kasumigaseki, Chiyoda-ku, Tokyo, Japan
Agenda
10:00-10:10

Welcoming Remarks

Hiroshi Okada, Senior Vice-Minister of Cabinet Office for Financial Services

10:10–11:30

Session I: Financial System Stability and Competition in the Financial Industry

Chair

Odd Per Brekk, Director, Regional Office for Asia and the Pacific, International Monetary Fund (IMF)
Materials
Speakers
Ratna Sahay, Deputy Director, Monetary and Capital Markets Department, IMF
Handout(PDF:970KB)
Akira Ariyoshi, Professor, School of International and Public Policy, Hitotsubashi University
Presentation slides(PDF:329KB)
Commentators
Tokio Morita, Deputy Commissioner for International Affairs, Financial Services Agency, Japan (JFSA)
Presentation slides(PDF:412KB)
Akihiko Kagawa, Managing Director, Mitsubishi UFJ Financial Group, Inc.
Handout(PDF:560KB)
Jae Ha Park, Deputy Dean, Asian Development Bank Institute (ADBI)
Presentation slides(PDF:537KB)
11:30–13:00

Lunch Break

13:00–13:20

Keynote Speech
"Current Situation, Challenges and Future of Regional Finance in Japan"

Hisashi Ono, Deputy Director-General, Supervisory Bureau, JFSA
Presentation slides(PDF:1,532KB) Attachment(PDF:648KB)

13:20–14:45

Session II: Finance to SMEs through Banks, Capital Markets and Other Financial Methods

Chair

Suhaedi, Executive Director, Bank Indonesia Regional Office for Eastern Indonesia
Materials
Speakers
Ganeshan Wignaraja, Director of Research, ADBI
Presentation slides(PDF:554KB)
Jongsoon Shin, Economist, IMF
Presentation slides(PDF:2,287KB)
Commentators
Wako Watanabe, Professor, Faculty of Business and Commerce, Keio University
Presentation slides(PDF:256KB)
Yoshiaki Ogura, Associate Professor, School of Political Science and Economics, Waseda University
Presentation slides(PDF:421KB)
Salinee Wangtal, Assistant Governor, Supervision Group, Bank of Thailand
Presentation slides(PDF:1,368KB)
Hisashi Ono, Deputy Director-General, Supervisory Bureau, JFSA
-
| | |
| --- | --- |
| 14:45–15:15 | Coffee Break |
| 15:15–16:30 | Session III: Financial Inclusion and Financial Education |
| Chair | Tarisa Watanagase, Former Governor, Bank of Thailand |
Materials
Speakers
Naoyuki Yoshino, Director, Financial Research Center (FSA Institute), and Professor of Economics, Keio University
Presentation slides(PDF:1,724KB)
Tomoyuki Furusawa, Director, Policy and Legal Division, Planning and Coordination Bureau, JFSA
Presentation slides(PDF:618KB)
Peter Morgan, Senior Consultant for Research, ADBI
Presentation slides(PDF:1,284KB)
Commentators
Ranee Jayamaha, Chairperson, Hatton National Bank Plc. (Former Deputy Governor of the Central Bank of Sri Lanka)
Handout(PDF:510KB)
Pungky P. Wibowo, Director, Financial Access and SME Development Department, Bank Indonesia
Presentation slides(PDF:3,535KB)
Julius Caesar Parrenas, Advisor on International Affairs, Bank of Tokyo-Mitsubishi UFJ, Ltd.
Presentation slides(PDF:111KB)
| | |
| --- | --- |
| 16:35–17:50 | Session IV: Panel Discussion: Finance to Ensure Asia's Economic Growth |
| Chair | Masahiro Kawai, Dean & CEO, ADBI |
Materials
Speakers
"Unlocking the Micro, Small and Medium Enterprises' Potential"
Muliaman D. Hadad, Chairman, Financial Services Authority Indonesia
Speech(PDF:476KB)
Panelists
Mikio Kajikawa, Senior Deputy Director-General, International Bureau, Ministry of Finance, Japan
Presentation slides(PDF:458KB)
Tarisa Watanagase, Former Governor, Bank of Thailand
-
Ranee Jayamaha, Chairperson, Hatton National Bank Plc. (Former Deputy Governor of the Central Bank of Sri Lanka)
Presentation slides(PDF:388KB)
Hisashi Ono, Deputy Director-General, Supervisory Bureau, JFSA
-
Ratna Sahay, Deputy Director, Monetary and Capital Markets Department, IMF
-
17:50–18:00

Closing Remarks

Masahiro Kawai, Dean & CEO, ADBI
Contact
Financial Research Center (FSA Institute)
Tel +81-(0)3-3506-6000 (ext. 3551, 3293)