March 5, 2015
Financial Research Center (FSA Institute)
ADBI-Japan-OECD High-level Global Symposium
Promoting Better Lifetime Planning through Financial Education
The Financial Services Agency hosted "ADBI-Japan-OECD High-level Global Symposium: Promoting Better Lifetime Planning through Financial Education" jointly with the Organisation for Economic Co-operation and Development (OECD), the Asian Development Bank Institute (ADBI), and the Bank of Japan on January 22-23, 2015. Presentations on financial education, financial inclusion and financial regulation with many country examples and experiences including OECD/INFE research were made and extensive discussions were held at the symposium. The symposium was attended by more than 140 participants, from academia, the financial sector, and the government sector in Japan and abroad.
At the start of the symposium, Takao Ochi, Parliamentary Vice-Minister of Cabinet Office, and Rintaro Tamaki, OECD Deputy Secretary-General, made welcoming remarks. Then, presentations and discussions were held in five sessions. There was a special address by Kikuo Iwata, Deputy Governor of the Bank of Japan, on the second day of the symposium.
See below for the program of the symposium and presentation materials.

Program (PDF:557KB), Materials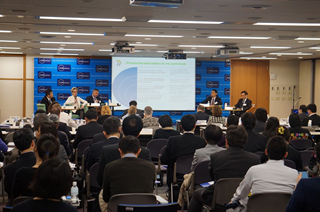 ADBI-JAPAN-OECD HIGH-LEVEL GLOBAL SYMPOSIUM

Promoting Better Lifetime Planning through Financial Education
Jointly Organized by the FSA, OECD, ADBI, BOJ
Supported by Japanese Bankers Association, Japan Securities Dealers Association, Life Insurance Association of Japan and General Insurance Association of Japan
Date: January 22-23, 2015
Venue: ADBI Conference room B&C, Kasumigaseki Building 8F,
3-2-5 Kasumigaseki, Chiyoda-ku, Tokyo, Japan
Agenda
Day 1
10:00-10:20
Welcoming Remarks
Takao Ochi, Parliamentary Vice-Minister of Cabinet Office
Rintaro Tamaki, OECD Deputy Secretary-General
10:20-11:50
Session I: Financial education: what can it achieve?
Research, good practices and evidence

Moderator

: Jae Ha Park, Deputy Dean, Asian Development Bank Institute (ADBI)

Materials

Speakers

Flore-Anne Messy, Deputy Head, Financial Affairs Division, OECD and Executive Secretary of the OECD/International Network on Financial Education (INFE)
Presentation slides(PDF:2,129KB)
Naoyuki Yoshino, Dean, ADBI and Chief Advisor, FSA Institute
Presentation slides(PDF:1,706KB)
Ganeshan Wignaraja, Director of Research, ADBI
Peter Morgan, Senior Consultant for Research, ADBI
David Boyle, Commission for Financial Capability (CFFC), New Zealand
Presentation slides(PDF:498KB)

Commentator

Sue Lewis, Chair, UK Financial Services Consumer Panel
-

13:30-15:00
Session II: Financial education for effective pension management: Challenges and solutions

Moderator

: Elsa Fornero, Professor, University of Turin and Center for Research on Pensions and Welfare Policies

Materials

Speakers

Adele Atkinson, Policy Analyst, Financial Affairs Division, OECD
Presentation slides(PDF:237KB)
Anna Zelentsova, Head of Financial Literacy at Ministry of Finance, and Co-chair of the Global Partnership on Financial Inclusion
Presentation slides(PDF:1,079KB)
Julie Agnew, Director of Boehly Center for Excellence in Finance, Mason School of Business, US
Presentation slides(PDF:1,565KB)
Miles Larbey, Senior Executive Leader, Financial Literacy, Australian Securities and Investments Commission (ASIC)
Presentation slides(PDF:780KB)

15:20-17:00
Session III: Target audiences for effective financial education

Moderator

: Flore-Anne Messy, Deputy Head, Financial Affairs Division, OECD and Executive Secretary of the OECD/INFE

Materials

Speakers

Ryoko Okazaki, Director, Head of Promotion of Financial Education Group, Public Relations Department, Bank of Japan
Presentation slides(PDF:118KB)
Naoyuki Yoshino, Dean, ADBI and Chief Advisor, FSA Institute
Presentation slides(PDF:1,086KB)
Nobuyoshi Yamori, Professor, Research Institute for Economics & Business Administration, Kobe University
Katsuyasu Suzuki, President, Japan Institute of Life Insurance and Professor, Faculty of Law, Teikyo University
Presentation slides(PDF:379KB)
Kazumasa Fukada, Managing Director, General Insurance Association of Japan
Presentation slides(PDF:714KB)
Hiroshi Ohata, Director for Policy Planning and Research, Policy and Legal Division, Planning and Coordination Bureau, FSA
Presentation slides(PDF:220KB)
Miles Larbey, Senior Executive Leader, Financial Literacy, ASIC
Presentation slides(PDF:788KB)

Commentator

Anna Zelentsova, Head of Financial Literacy at Ministry of Finance, and Co-chair of the Global Partnership on Financial Inclusion
-

Day 2
10:00-10:20

Special Address


"Financial Education in Japan: Challenges Presented by the Aging Population and Declining Birthrate"
Kikuo Iwata, Deputy Governor, Bank of Japan
https://www.boj.or.jp/en/announcements/press/koen_2015/ko150123a.htm/

(click the link above to see the full text of the Special Address)

10:20-11:50
Session IV: Financial Inclusion, Financial Regulation and Financial Education in Asia

Moderator

: Ganeshan Wignaraja, Director of Research, ADBI

Materials

Speakers

Muliaman D. Hadad, Chairman, Financial Services Authority Indonesia
Presentation slides(PDF:852KB)
Saeed Ahmed, Director, Agriculture Credit & Microfinance Department, State Bank of Pakistan
Presentation slides(PDF:584KB)
Atty. Prudence Angelita A. Kasala, Head of the Financial Consumer Protection Department, Banko Sentral ng Philipinas
Presentation slides(PDF:721KB)
Nguyen Vinh Hung, Deputy Director General, International Department, State Bank of Vietnam
Presentation slides(PDF:456KB)
Nichaya Kosolwongse, Visiting Fellow, Asian Financial Partnership Center, FSA,
Securities and Exchange Commission of Thailand
Presentation slides(PDF:1,043KB)

11:50-12:50
Session V: Wrap up

Moderator

:
Naoyuki Yoshino, Dean, ADBI and Chief Advisor, FSA Institute

Panelists

:
Satoshi Saito, Director, Head of Financial Services Information Division, Public Relations Department, Bank of Japan

Flore-Anne Messy, Deputy Head, Financial Affairs Division, OECD and Executive Secretary of the OECD/INFE

Miles Larbey, Senior Executive Leader, Financial Literacy, ASIC and member of the OECD/INFE Advisory Board

Nguyen Vinh Hung, Deputy Director General, International Department, State Bank of Vietnam

12:50-13:00
Closing Remarks
Rintaro Tamaki, OECD Deputy Secretary-General
Contact
Financial Research Center (FSA Institute)
Tel +81-(0)3-3506-6000 (ext. 3551, 3293)